No self respecting farm or small holding would be complete without a resident cat! We have Oscar the six to eight year old black and white cat. And a very handsome fella he is too: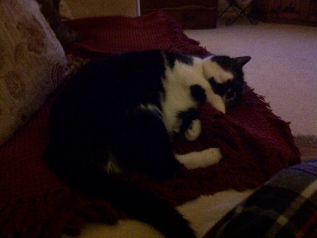 Oscar was adopted by Derrick when he was about three or four years old. The man who had him before needed to find new homes for his cats for one reason or another and Derrick's Daughter, Emma, convinced him that he could do with the company! So Derrick went to see them and picked Oscar as he thought that they would "gel" well.
Oscar is a wonderful companion and has such a gentle and loving nature. He loves his strokes and cuddles. He lives like a king and is never forgotten when there is left over roast meat! And often gets a pack of beef and cheese..............his favourite flavour............ Dreamies as a treat.
He even joins in with the festivities at Christmas, letting Emma dress him up!: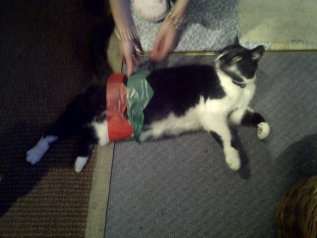 Oscar spends his days patrolling the perimeter of our land, chasing off other cats who dare enter, playing with mice who have the misfortune to cross his path and basking in any sunshine that may make an appearance. He revels in attention from our next door neighbours who adore him. The lucky fella has two gardens he can relax and receive adoration in!
He pays no mind to the chickens and ducks. A slight cause for concern in the early days that turned out to be misplaced. He is too old for all that nonsense now and I think he is aware that it would not be worth his while. And he knows he would be in big trouble too! Bless him.
By night, he is indoors, especially as the nights draw in earlier. He has his space at the end of the sofa with his very own rug where he enjoys the warmth of the fire and all the strokes we are willing to offer. He is a great companion when I find myself home alone and has a very calming influence. I have always thought cats are very good at judging characters and moods and Oscar is no exception.
Whilst me and Megan adore Oscar and show him so, the ultimate kudos for Oscar is a bit of petting from his master! One rub on the head from Derrick and you can practically see Oscar beam with pride.
Oscar really does live the good life here at Priory Cottage!
Update 25th July 2019
Sadly, Oscar passed away in his sleep last night. His health had deteriorated over recent months and died of old age.
He is now buried underneath the cherry tree and this page will ensure his memory lives on
RIP Oscar