Having gotten so much enjoyment from the battery hen's, and suffering persistent pleas from Megan for a new pet, Derrick decided that whilst we were not in the market for a puppy or a kitten, we could do with some pet chickens! I had fallen in love with a Mother Hen and her chicks whilst we were on a summer break in Plymouth last year and upon researching found that they were Pekin Bantam's. Smallish, cute, fluffy chickens with feathery feet!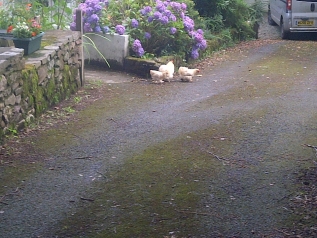 And so the seed had been sown some months before. Derrick sourced a place, Smiths Nurseries in Thorngumbald near Hull, that had some Pekin Bantam chicks that were ready to be taken on. We reserved two, a lavender and a lemon coloured ones.
The day came to go and pick them up and Megan was very excited as she loves all baby "animals". The nursery had a variety of poultry to look at and we spent an enjoyable half an hour looking at the selection of ducks, chickens and their chicks. There was a rather magnificent cockerel that certainly knew how to make people take notice of him! He was so loud with beautiful feathers. A handsome creature. If we had more space......and no neighbours to irritate.......I would have snapped him up at the rather reasonable £30 he was on offer for!
After a good look around and a lot of "Ooohing" and "Ahhing" at the cute chicks and ducklings, we were ready to take our new editions. Our lavender and lemon chicks had already been earmarked as we had stated that we specifically wanted all females. They were so cute, but so were the other ten or so that were in the pen with them. And me being me and with Megan egging me on....(Ha! Egging?! Get it?!) I succumbed and selected a white chick and a black chick to complete our collection.
And so we packed them in the car in the back with Megan who was in charge of looking after them and began the journey home. Oh, and of course it was the perfect opportunity to pick up some manure on the way too! Megan giggled all the way as the chicks kept sliding about in the pet carrier they were in and kept sitting on each other!